This is Finn's story told through the eyes of his mother Sarah. He contracted Meningococcal B septicaemia when he was only a baby.
It all began on the night of the 21st November 2013. Finn was just 13 months old. He was a happy little boy, but on this day he seemed to be sick with a cold. The only thing visibly wrong, was the shine above his lips caused from the constant runny nose he'd had. As the evening progressed so did his flu-like symptoms. He had a loss of appetite, fevers and was very unsettled. It was about midnight and while I was nursing him, I felt his little body start to tremor, almost pulsating on and off. At this stage I called the after hours doctors and they came within the hour. They said he just had a viral infection, gave us a script and said to get it filled as soon as the chemist opened in the morning. Which we did.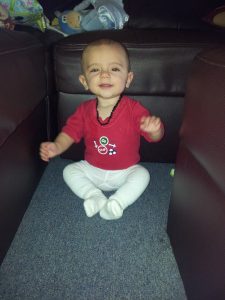 At about 9am we got in the car to drive down to a hospital in Brisbane for a scheduled appointment for routine tests. While we were in the car I noticed a mark on Finn's forehead. It was grey in colour like he'd been playing with a lead pencil. I tried to rub it off and it didn't go away. I thought to myself it must be a bruise and wondered what he could have bumped his head on. We stopped off for some morning tea and a wardrobe change as Finn had just vomited on his clothes. It was then after taking off his shirt, I noticed the same marks all over his chest and body, but lighter in colour. I panicked and told Jason my partner, we needed to get him to a hospital ASAP.
When we arrived at the Emergency department, our worst nightmare came to life. The staff seemed to be rushing around, they knew Finn was in a bad way. I was holding him and I could feel his little body going limp, he was deteriorating fast. I laid him on the bed, stepped back and we watched on helplessly as they did everything they could to save his life.
About an hour or so later the Paediatric Intensive Care team arrived & placed him in an induced coma. He was so critical there was no room for either Jason or I to travel with them so we drove to the hospital and waited in the parents room outside PICU for any news on his condition. It felt like hours had passed, but eventually they were able to stabilise him and finally we were allowed to go in to see him.
We had no idea what to expect when we walked through those doors, and honestly nothing could have prepared us for what we saw. The image of our beautiful baby boy intubated and hooked up to life support will be with me forever. It was the most confronting and scariest site I've ever seen.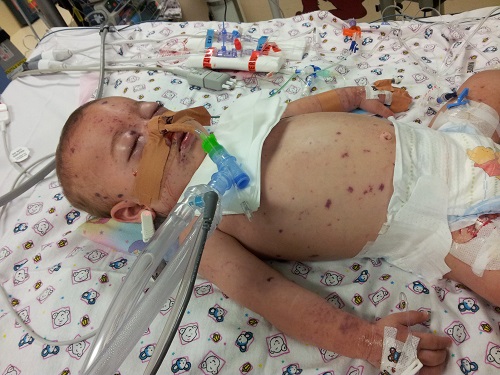 We were told that Finn was in a very bad way and his condition was not good. They said we needed to accept the very real fact that he may not survive the next few hours let alone the night. We were told the first 72hrs were the most critical and if he can survive that then he had a good chance of surviving the infection. We stayed by his bed side and just kept telling him over and over again "Fight bubba fight" & "Mummy and Daddy are here and we love you".
Over the next few days we watched his limbs go from red, to purple, to black and then his fingertips and toes dried up like raisins. The reality of him requiring amputations, set in.
Finn laid there in a coma for two and a half weeks because all his organs were no longer working. There were two failed attempts to wake him, but as his lungs were still not strong enough to work on their own, he had to be re-intubated. But with time, one by one his organs began to work again, and finally the day came when he was ready to hold his own. Words cannot describe the emotions we felt after seeing his big beautiful eyes open again.
Only a few weeks later they began the amputation surgeries. His first was on Christmas Eve, they took his left leg below the knee, three days later, they took his right hand and the fingers from his left, then two days after that, they took his right foot above the ankle.
From that moment on we started the long and hard road to recovery through rehabilitation. Finn needed to re-learn and find new ways to do absolutely everything. It wasn't easy and it certainly has taken its toll on us all, but through countless surgeries, pain and discomfort, frustration and tears we did it and he is now one strong, determined and happy little boy who amazes us everyday. Although his future still holds many surgeries and more heartache we know he can, and will get through it all.
Finn is now in grade one and is doing really well in school. He is smart and confident within himself. His peers accept him for how he is, and encourage him as he re-learns how to stand and walk in his new prosthetic legs.
We have always tried to point him in a positive direction but we are lucky he has a naturally strong personality which will help him achieve whatever he puts his mind to.