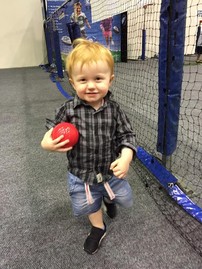 My son Miles was only five months old when he was diagnosed with Pneumococcal meningitis. It was July 19, 2014 and he was teething. He was irritable and was disinterested in eating, which was nothing new to us. He had become quite clingy and wanted to be held constantly. It was the Friday before my daughter Scarlett's 4th birthday and Miles mood was making it particularly difficult to decorate her cake for her party the following day.
Miles had had a low grade temperature on and off for the last 24 hours but in the evening we had finally managed to settle him. That night he woke at 11pm for a feed.
At 4am Miles woke up crying in pain. This cry was not from teething. I put my hand on him and I could feel how hot he was through his sleep suit. I checked his temperature and it was just below 40 degrees. I rushed him to the kitchen where I gave him some pain relief which he proceeded to vomit as soon as he had swallowed it.
I went back to the bedroom and woke my husband Andrew. He normally works away but he just happened to be home that week. I handed Miles to Andrew. He continued to cry in pain but his eyes remained closed.
I remember saying to Andrew, that he was really really sick. I decided to take him to the emergency department. Armed with nothing more than a handful of non-descript symptoms and a mother's instinct, I broke every speed limit on the way.
As soon as we arrived we were seen quite promptly. I was told to lay him down on the bed as half a dozen medical staff seem to surround us from nowhere. I explained to them that he had been teething for weeks but tonight was different.
An hour had passed and his skin was mottled and pale. His fontanelle was raised and swollen. His heart rate was up and he seemed in a lot of pain. Despite Miles wanting no part of the lumbar puncture they needed, the doctor on that night wasted no time in starting IV antibiotics, a decision I believe saved his life.
We were admitted and spent the day waiting on his tests results. That afternoon we were told he had meningitis. That night he was in constant pain. He cried on and off the entire night and slept only while being held. It wasn't until the next day that we were told he had pneumococcal. We were in shock. Miles was only one month shy of being fully vaccinated.
After 3 intravenous drips falling out we were transferred to another hospital where a PICC line was put in his left arm to facilitate the 14 days of antibiotics he would need to recover.
Miles eventually made a full recovery and he is one very happy, healthy and cheeky little boy and every day we are so grateful to have him.
If there's one thing I can recommend, know the very early signs of this condition. DON'T wait for the rash. Educate yourself and above all, always listen to your instincts.
If you have been moved by Alicia and Miles' story, you can help make a difference by donating to Meningitis Centre Australia, to make people more aware of this disease, go to Meningitis Centre Australia