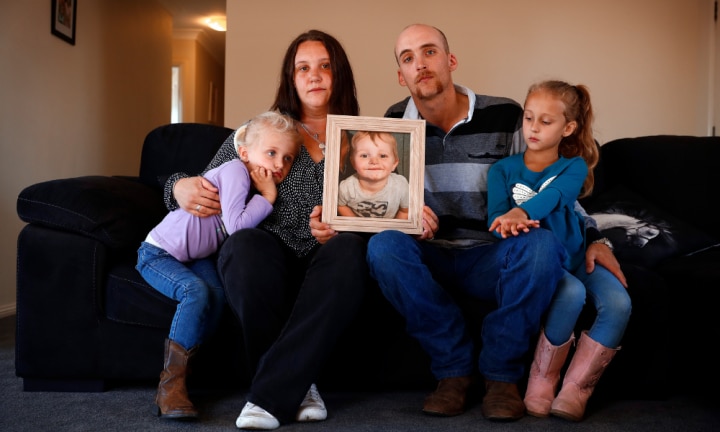 Amy and Donald Peach with their children Lilly, 6, and Indi, 4 at their home in Quirindi. Picture: The Sunday Telegraph.
The heartbroken parents of Donald Peach have recalled how their healthy son died within hours of a rash breaking out.
In one day Donald Peach went from being playful and happy to falling victim to a deadly vaccine-preventable disease.
The 20-month-old from NSW tragically died after contracting the B-strain meningococcal disease.
His parents followed the government's official immunisation program and believed their son was up to date and protected from anything harmful and preventable.
They didn't know there was a vaccine against this horrific illness until it stole their boy 24 hours after he was in perfect health.
He had a sudden fever
Donald's devastated parents Amy and Donald Peach, of Quirindi, south of Tamworth have recalled to The Sunday Telegraph how quickly their son deteriorated after waking from a nap three weeks ago with a slight temperature.
They said he was given Panadol and looked better because he was active, happy and jumping around with them and his two sisters.
That night the toddler fell asleep at 6pm but soon woke with a fever of 39.9C. They took him to the hospital where he vomited. He was given more Panadol and a flu swab, and monitored until his temperature dropped and was then sent home.
At 1am he woke and vomited again and when Mrs Peach changed his nappy she noticed a purple dot on his groin the size of a five-cent which "looked like a bruise, a purple rash".
His little body couldn't handle it"
The worried parents took Donald straight back to hospital and within five minutes the purple rash had spread across Donald's small arms and chest.
Doctors immediately recognised the symptoms as meningococcal and organised an emergency helicopter.
"A little bit of blood bubbled from Donald's nose and I wiped it with a tissue and said to the lady 'his nose is bleeding'. Then he went into a fit," Mrs Peach told The Daily Telegraph.
"They started CPR and used the defibrillator and adrenaline for 35 to 45 minutes trying to bring him back. By the time the rash got there at 1am, he was gone by 4.30am, that's how quick it was.
"His heart stopped because his little body couldn't handle it. They said he would have been quite septic by that time."
"I'm angry I didn't know about it"
Donald's devastated parents, of Quirindi, south of Tamworth have vaccinated their three children according to the National Immunisation Schedule.
Now the heartbroken couple are campaigning for the federal government to include the meningococcal B vaccine on the free program, as it's only available for purchase privately in most states, except South Australia.
They have created a petition to make the vaccine free for all children. They are also urging parents to get their children vaccinated against the deadly strain.
"I'm angry I didn't know about it. The B strain, I had never ever heard of it," Mrs Peach said. "We would have got it done straight away if we had known."
Federal Health minister Greg Hunt has said uncertainty about the B-strain vaccine Bexsero's effectiveness has prevented it from being added to the National Immunisation Program.
Meningococcal vaccinations
In Australia, the five most common types of meningococcal bacteria found are called A, B, C, W and Y.
The Federal Government has free vaccines against the A, C, W, Y strains of meningococcal through the National Immunisation Program for children at 12 months and teens aged 14 to 16 years thorough school immunisation programs.
Families have to foot the bill for the meningococcal B vaccine, Bexsero.
Currently, only South Australia funds the B vaccine in a targeted program.
The vaccine for the B strain has been put before the Pharmaceutical Benefits Advisory Committee  three times by its manufacturer GSK, but is yet to get the nod.
SOURCE: Kidspot